We have selected our personal top 5 of yoga books that we think you should read. Enjoy!
1) Yoga Anatomy-2nd Edition Paperback
Yoga Anatomy-2nd Edition Paperback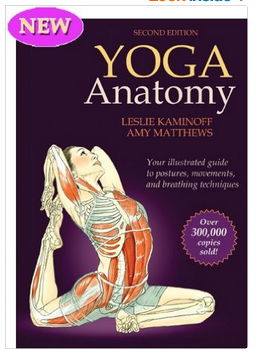 Whether you are just beginning your journey or have been practicing yoga for years, Yoga Anatomy will be an invaluable resource—one that allows you to see each movement in an entirely new light.
This best-selling anatomy guide for yoga is now updated, expanded, and better than ever!
With more asanas, vinyasas, full-color anatomical illustrations, and in-depth information, the second edition of Yoga Anatomy provides you with a deeper understanding of the structures and principles underlying each movement and of yoga itself.
From breathing to inversions to standing poses, see how specific muscles respond to the movements of the joints; how alterations of a pose can enhance or reduce effectiveness; and how the spine, breathing, and body position are all fundamentally linked.
A "must" for the yoga enthusiast or instructor!! Clear wording, detailed illustrations and description of poses. Able to go into poses more effectively, knowing which muscle groups and joint movements are responsible. Beautiful big images.
You can buy it at Amazon for only $15.71 now.
Or at Bol.com
2) The Yoga Bible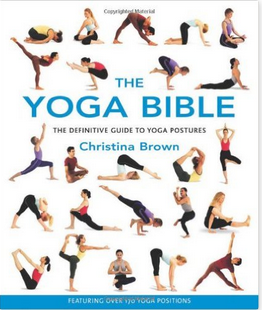 Featuring over 150 yogic postures from the main schools of yoga, including lyengar and Astanga Vinyasa, this book is a comprehensive illustrated step-by-step guide to achieving each posture.
It offers advice on altering postures where necessary, enabling beginners to try more difficult positions. Experienced yoga practitioners will also find a number of challenging, advanced positions–perfect inspiration for developing their practice. In addition to postures, the book includes notes on various types of yoga practices as well as a summary of well-known traditional schools of yoga and how they vary. Readers will also find advice from the author on breathing techniques and the benefits of yoga in healing, pregnancy, de-stressing and meditation.
This is an good little book. Many poses are featured in full color photographs. One of the nice things about this book is that they show the pose, step by step. This gives you a clear idea of how to 'get into the pose' as well as the full expression.
You can buy the book here at Amazon or at Bol.com
3. Light on Yoga: Yoga Dipika – B. K. S. Iyengar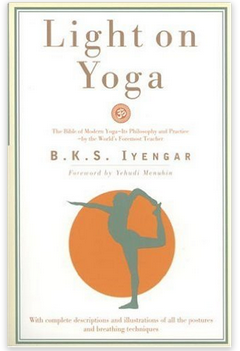 The definitive guide to the philosophy and practice of Yoga–the ancient healing discipline for body and mind–by its greatest living teacher. Light on Yoga provides complete descriptions and illustrations of all the positions and breathing exercises. Features a foreword by Yehudi Menuhin. Illustrations throughout.
This is the definitive text on hatha yoga. This is the book you want if you are serious about beginning your yoga practice. This is also a text of reference for professional teachers used throughout the world. It is no exaggeration to say that all yoga instructors  know this book, and most of them own a copy and refer to it regularly.
Buy this book on Amazon or Bol.com
4. 2,100 Asanas: The Complete Yoga Poses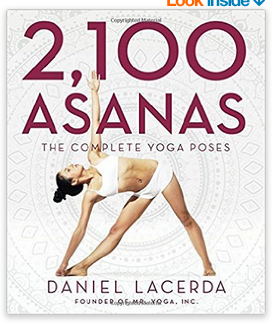 NEW YORK TIMES BESTSELLER
The most complete collection of yoga asanas ever photographed, and the first-ever to categorize an astonishing 2,100 yoga poses. This beautifully designed book is a must-have for yogis of all levels and every practice.
2,100 Asanas is an unprecedented, meticulously crafted catalog of yoga poses and modifications. It is also a gorgeous work of art, showcasing the beauty and athleticism of the human form. Each photograph features an expert yogi performing the pose to perfection. The aesthetic is clean and modern. The book is organized into eight major types of poses-standing, seated, core, quadruped, backbends, inversions, prone, and supine-and further broken down by families of poses that progress from easiest to more challenging. Every pose is accompanied by the name of the pose in English and Sanskrit, a description of the modification, the Drishti point (eye gaze), the chakras affected and its benefits.
5. The Yoga Sutras of Patañjali: A New Edition, Translation, and Commentary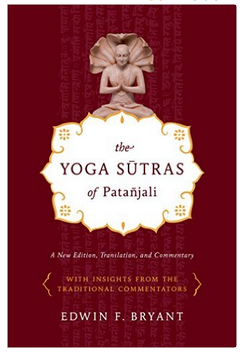 A landmark new translation and edition
Written almost two millennia ago, Patañjali's work focuses on how to attain the direct experience and realization of the purusa: the innermost individual self, or soul. As the classical treatise on the Hindu understanding of mind and consciousness and on the technique of meditation, it has exerted immense influence over the religious practices of Hinduism in India and, more recently, in the West.
Edwin F. Bryant's translation is clear, direct, and exact. Each sutra is presented as Sanskrit text, transliteration, and precise English translation, and is followed by Bryant's authoritative commentary, which is grounded in the classical understanding of yoga and conveys the meaning and depth of the su-tras in a user-friendly manner for a Western readership without compromising scholarly rigor or traditional authenticity. In addition, Bryant presents insights drawn from the primary traditional commentaries on the sutras written over the last millennium and a half.
Buy this book at Amazon or at Bol.com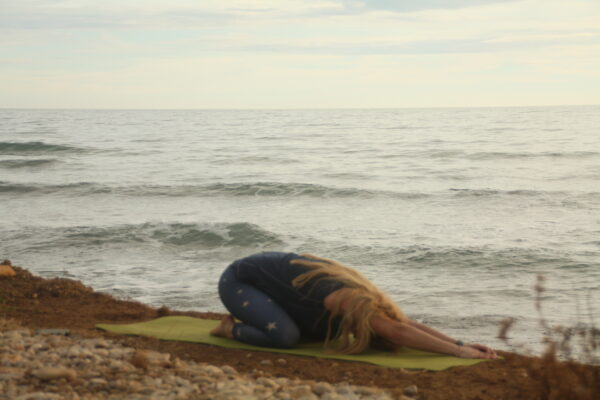 Ontdek de helende kracht van Yin yoga Yin yoga is een ongelooflijk fijne manier van [...]
Bewaren
Bewaren
Bewaren
Bewaren