Part of being a yoga teacher is inspiring and informing your students about how best to deepen their asana practice. Often, this involves placing your hands on a person to gently ease or encourage their body into a pose.
Sometimes hands-on adjustments correct alignment, or invite more depth. Other times the touch is simply to bring awareness to certain parts of the body, whether the intention is to facilitate release or more engagement.
When done with a listening touch, such adjustments can completely change the class and effects of the pose. Ideally, adjustments offer support and encouragement. However, many yogis who are used to their own very flexible bodies can lose empathy a little when it comes to adjustments. It can be easy to forget what it was like to have very tight muscles, and hard to imagine the limitations of certain injuries.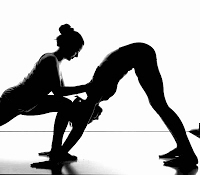 Being jerked into a twist or pushed too far in a forward bend can result in screaming muscles. Body defences can go up, and people can feel pushed too far. In the worst case scenario, forceful adjustments can result in injury. 
Training in bodywork and massage is a great way for yoga teachers to ensure their adjustments are done in a spirit of loving kindness. An intuitive touch that listens to the body beneath the hands is yet another way to see each individual in your class, and respond appropriately to their needs.
Not all yoga teacher trainings include training in bodywork or massage, but the benefits of doing so are beautiful and bountiful.
Teaching intuitive touch and the basics of shiatsu bodywork is something that the teacher training at Viva La Vida includes so that our teachers can better support their students. It improves adjustments in class, as well as gives greater knowledge of physical anatomy and subtle bodies.
Sometimes, the right touch can help more than all the perfect demonstrations and detailed instructions that a yoga teacher gives in class.
Sometimes, touch is simply there to offer acknowledgment and loving support.
Touch is another way of seeing, connecting and assisting your fellow human beings. Another way to support others on their journey.
By Hannah Chapman
Hannah Chapman completed a two year training in Yoga Therapy and Shiatsu Therapy at the same time, and feels strongly about the collaborative power between yoga and bodywork. She offers embodiment bodywork workshops, bodywork sessions and yoga classes that connect students to the inner workings of their bodies on subtle levels. Find out more at www.zenmeridiantherapy.com
Photo credit: photo via StockSnap via Pixabay