SOME OF THE REVIEWS OF OUR BREATHWORK COURSE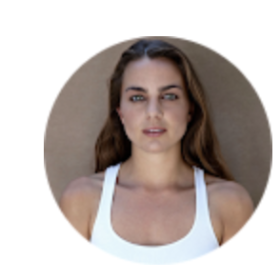 I loved this course!
I recently participated in a great in-depth online 30h breathwork course with Jane and Ilse. Wonderful teachers full with valuable knowledge and wisdom they shared with us. Normally I would prefer courses in person. However for now was it perfect to still participate in the course at my own pace and still feeling connected to the group and Ilse and Jane.
I would recommend this if you are looking for an easy approachable course to get more in depth with your own practice or if you are interested in teaching breath work to others.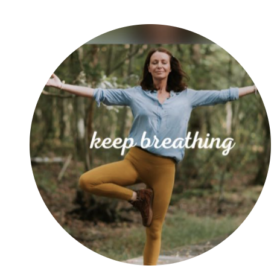 Thank you

I would like to thank you for all the great work you have put into the course. The course exceeds my expectations in terms of content, presentation, knowledge and structure.
Although I had promised myself not to do online courses or training anymore, this course is really worth it.
Many thanks.
SOME OF THE REVIEWS OF OUR YIN & YANG TEACHER TRAINING (200 HOURS)
We can tell you how great our courses are, but the best id to hear the stories of our  students.
You can read  a few reviews from our graduate students here.
These are some of the experiences of our students of the intensive 3-week Yin & Yang Training in Spain.
Below you will also find reviews about our Yin Yoga Training and about our online courses.
Part of the reviews are on our previous name Viva La Vida. We have continued under the name House of  InnerPower  and InnerPower Yoga.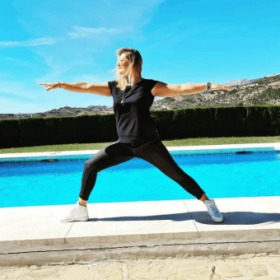 Dear Jane and Ilse,
Oh how I miss you, your classes and the mountains, but I left you full of energy and idea's, I started a new life and am ready to start up a new business.
I could not have wished for better teachers, you are Yin and Yang together and your TTC is so outbalanced and full of all information, inspiration and training a "yoga teacher to be" need, probably even more!
I feel I have grown so much, as a person, a mom a friend and a teacher.
It is a real special journey that you created for your students. Your passion, joy and love for yoga as yogi's is what it makes a full on experience in life.
The moment of arrival at the location I already felt at home as you guys created this wonderful environment to arrive in and then Almu, Alejandro, Lauren, Tiziana and Danielle the whole team added their own specialties to make the TTC what it is, amazing!
Sound Journeys, the Finca, the food, other yoga teacher experiences you all share all your knowledge with your students to give them all they need to know and more!
Thank you, it is been a life changing journey, it is amazing I still feel it and it will never leave me!! I hope we will meet again soon, on the mat, in the Shala or just for coffee, but that RYT300 in 2021 is already in my mind and visualizations! for now Namaste!
Until we meet again!
xx
Doreen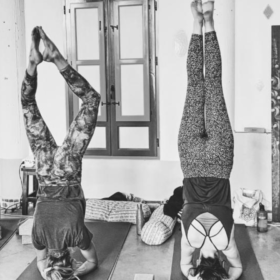 I can highly recommend the 200h Yoga Teacher Training with Ilse and Jane. They both absolutely compliment each other in the way they teach and approach Yoga.
The course is put together very well and there are so many different topics to explore and learn about. From philosophy, to anatomy, to practice teaching and studying the Asanas.
They prepare different workshops to spark the interest in e.g Qi Gong, Yoga Nidra or Kids Yoga.
Everyday was different and I deeply enjoyed every day to the fullest. I think it is very special that Ilse brings in her knowledge of Traditional Chinese Medicine as well so that one can look at the body not only from the anatomical view point, the indian view point but also the traditional chinese view point.
The food is delicious and healthy and the surroundings in the middle of the mountains so very calming.
The training really set a steady foundation for me to teach Yoga and opened up so many topics I want to explore deeper now. I feel changed and thank Ilse and Jane for their Being, their teachings and the way the put together this beautiful training. I can highly recommend it, if you are thinking about it, do it!"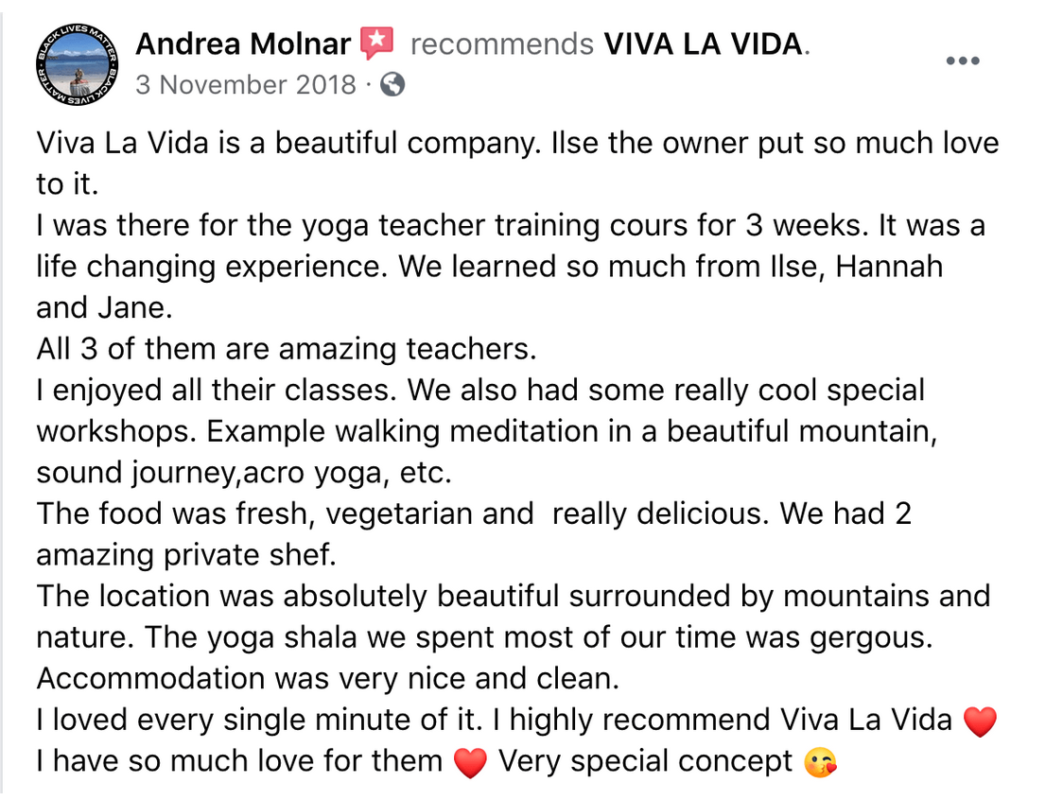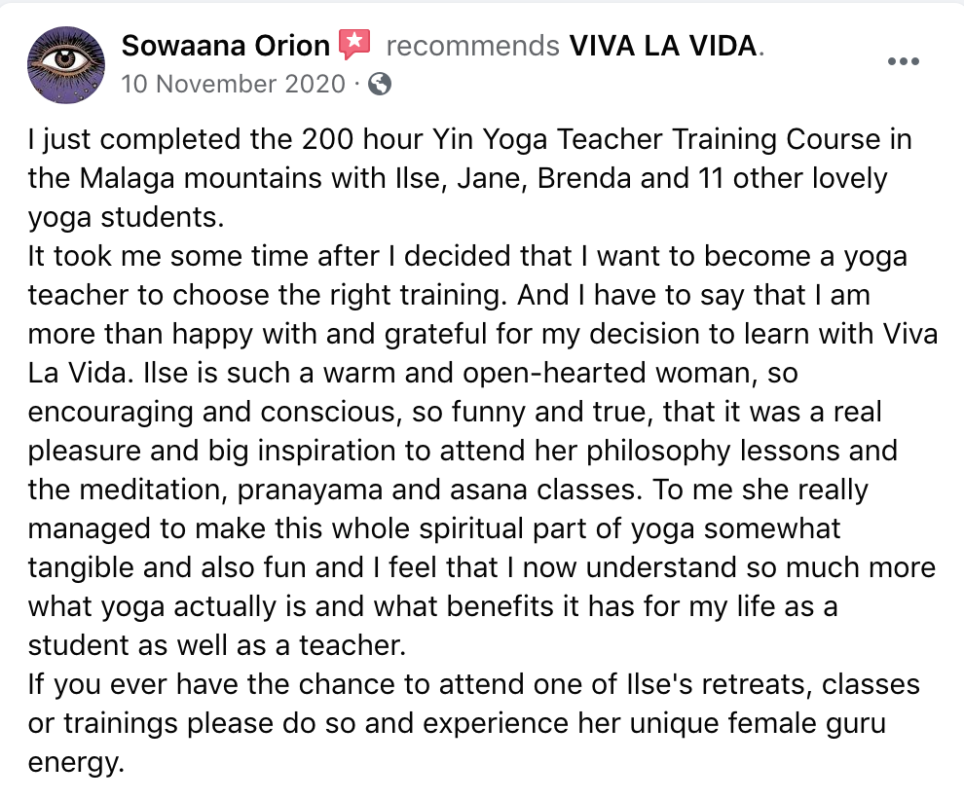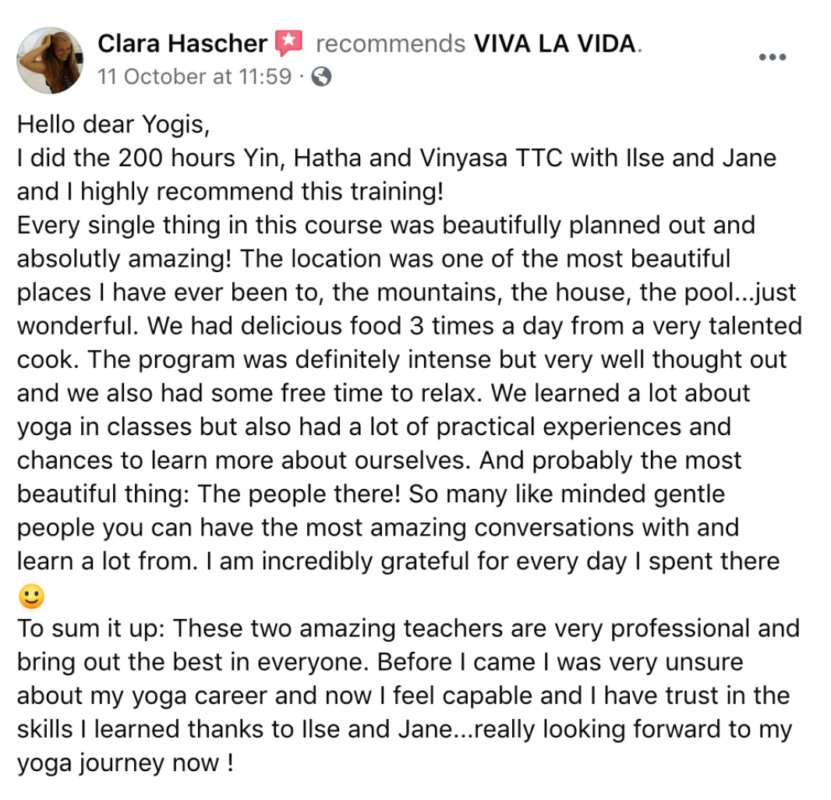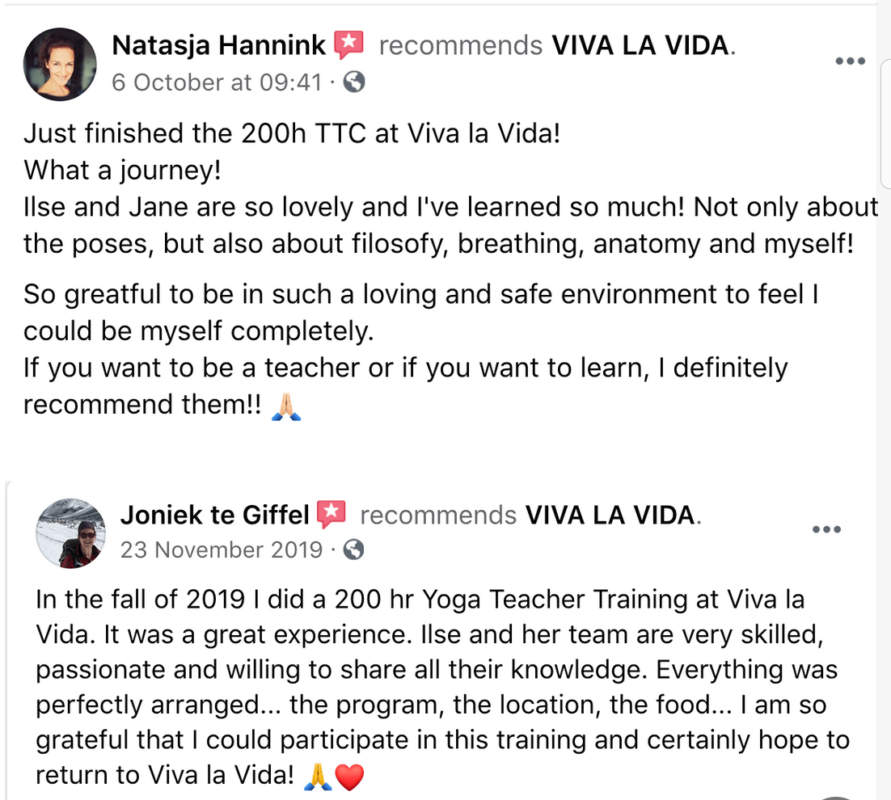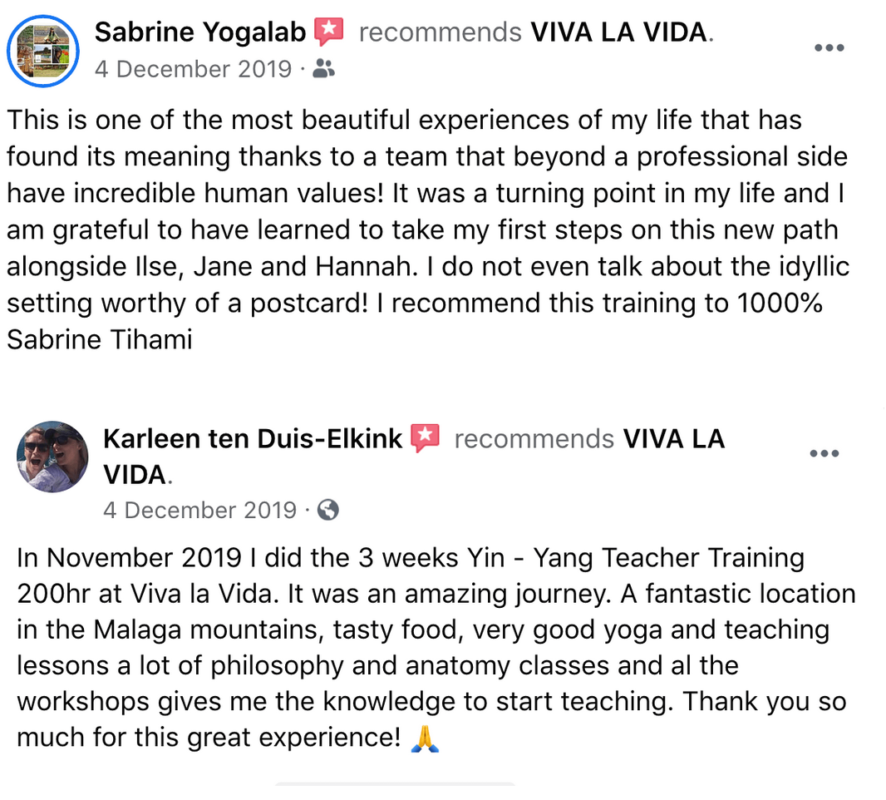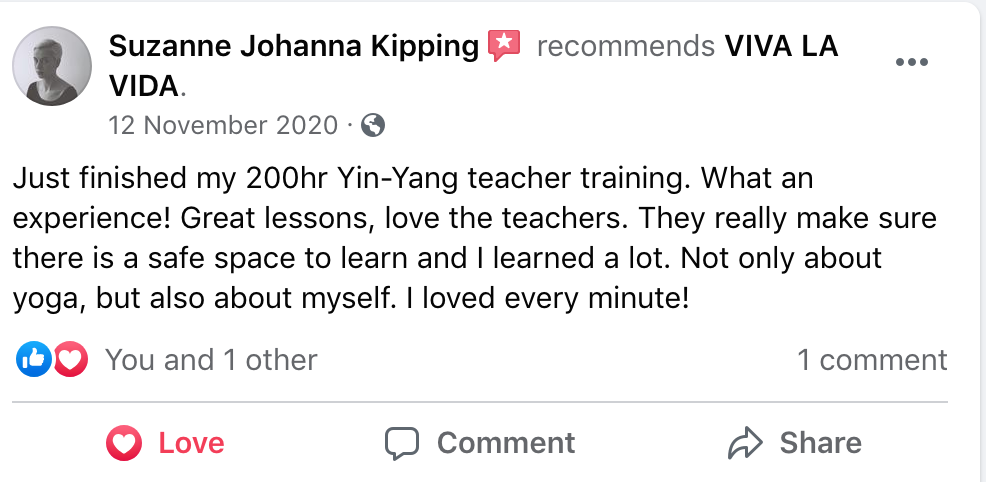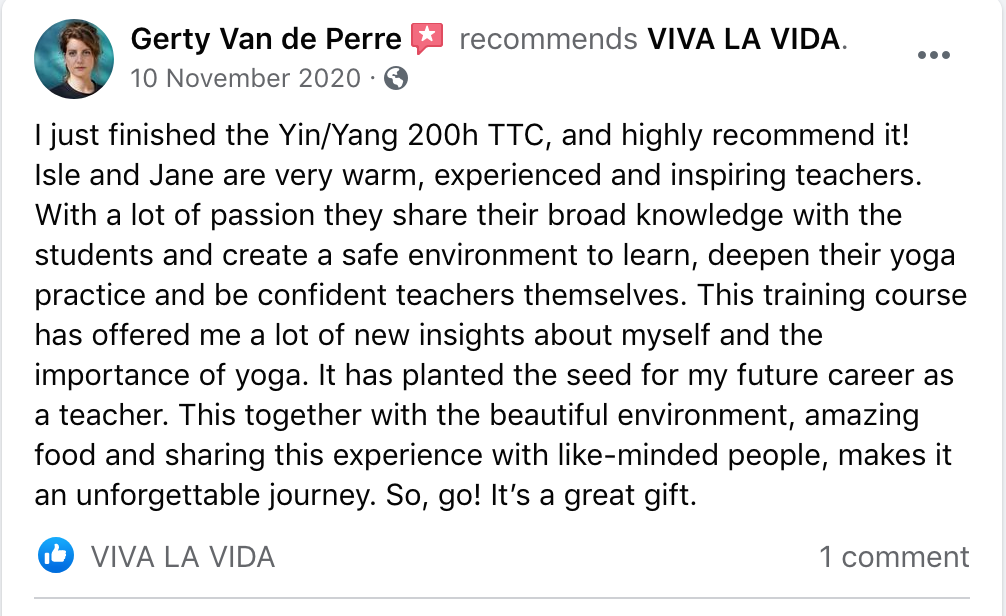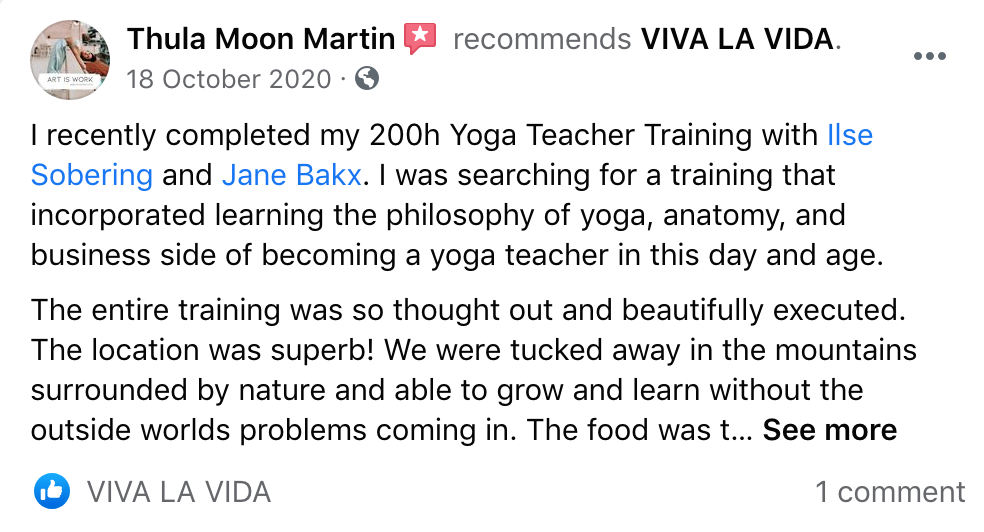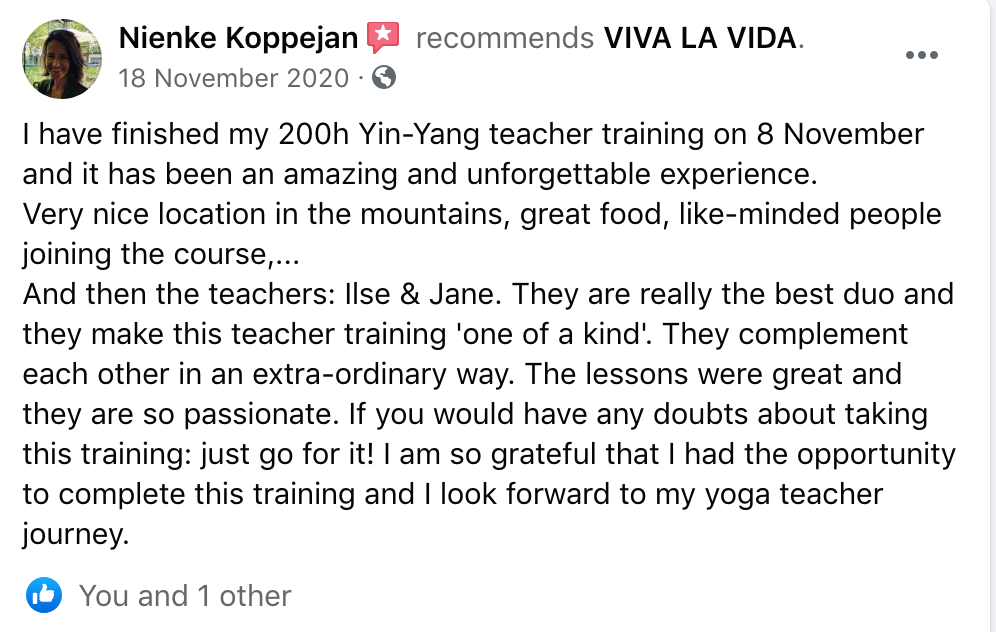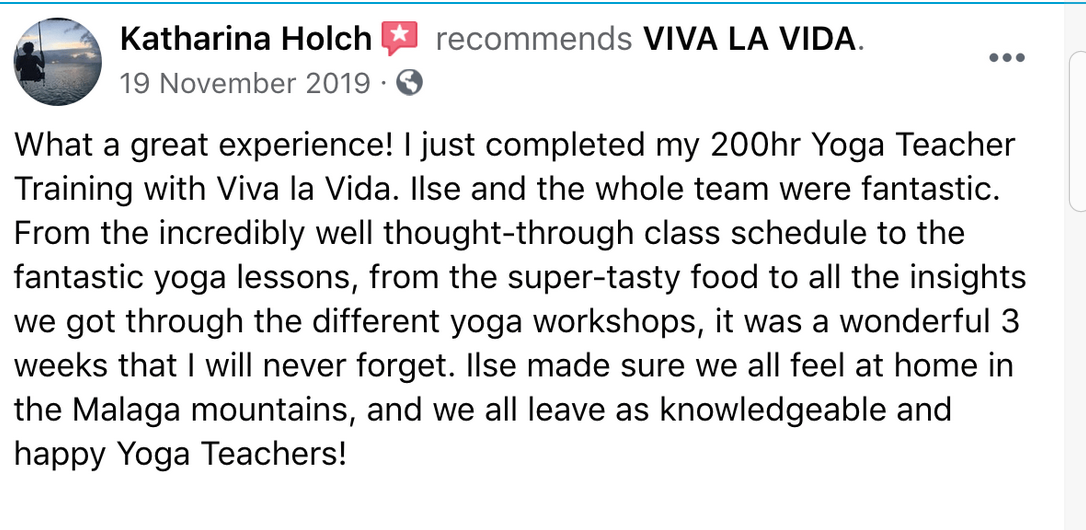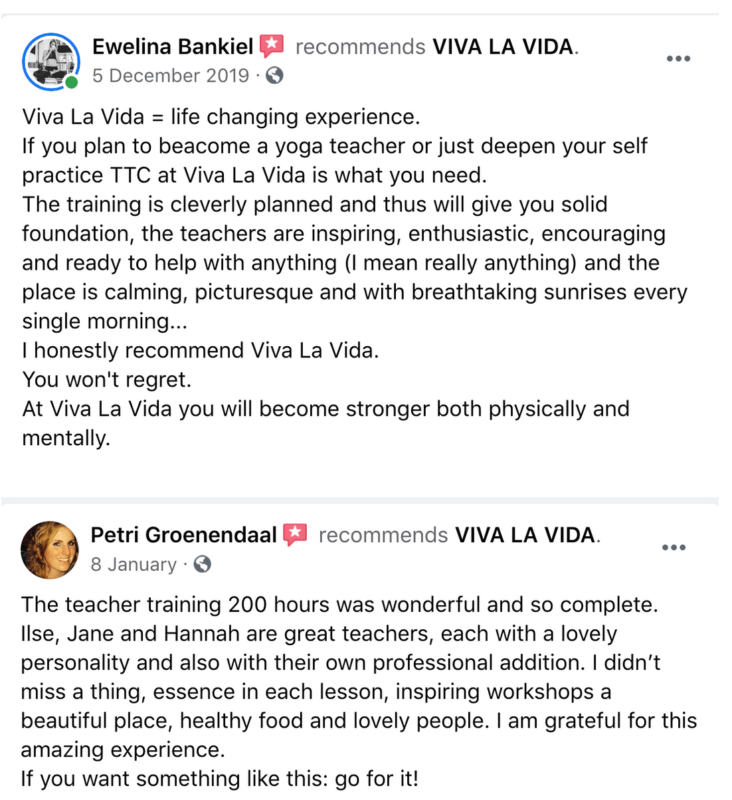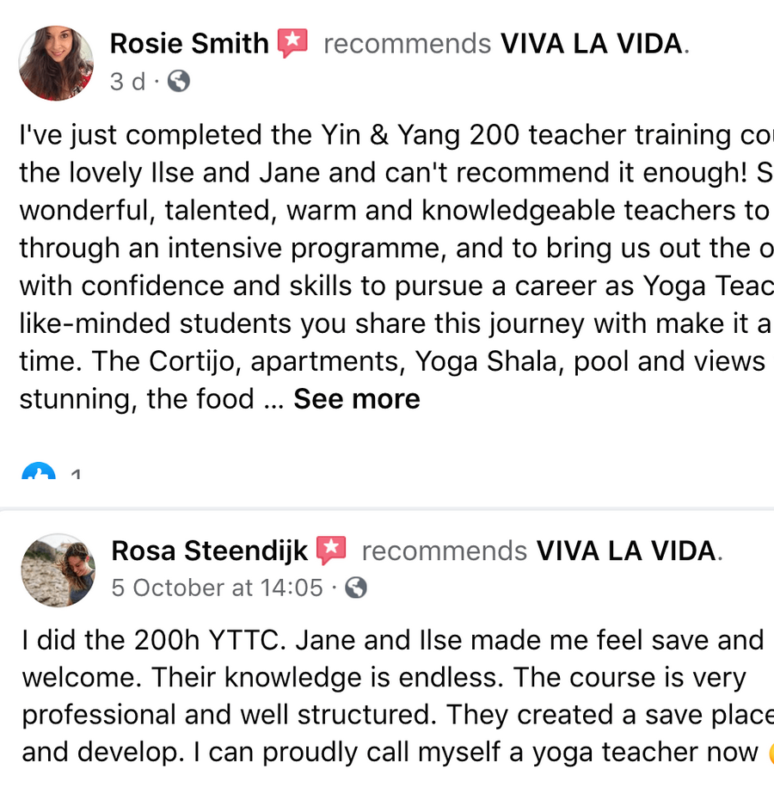 SOME OF THE REVIEWS OF OUR YIN  TEACHER TRAINING (50 HOURS)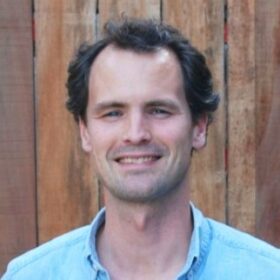 I can really recommend this training as well for people in the medical field
I really enjoyed the teacher Training. Right after the first lesson I knew this course was for me. I love the combination of spiritual energy and down to earth anatomy. Jane and Ilse are great teachers.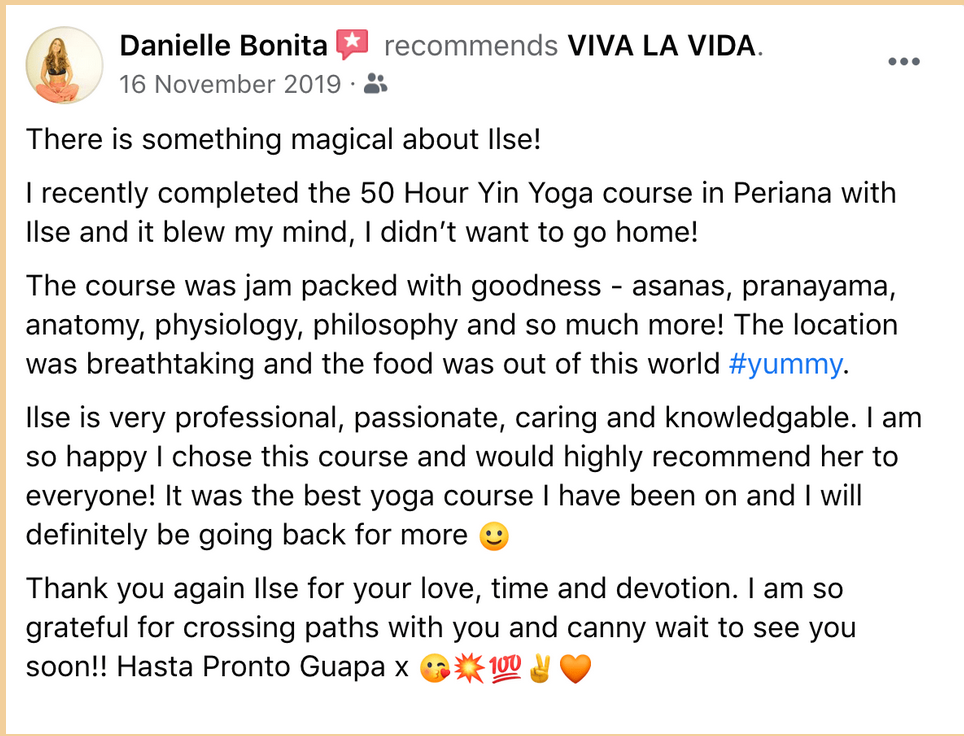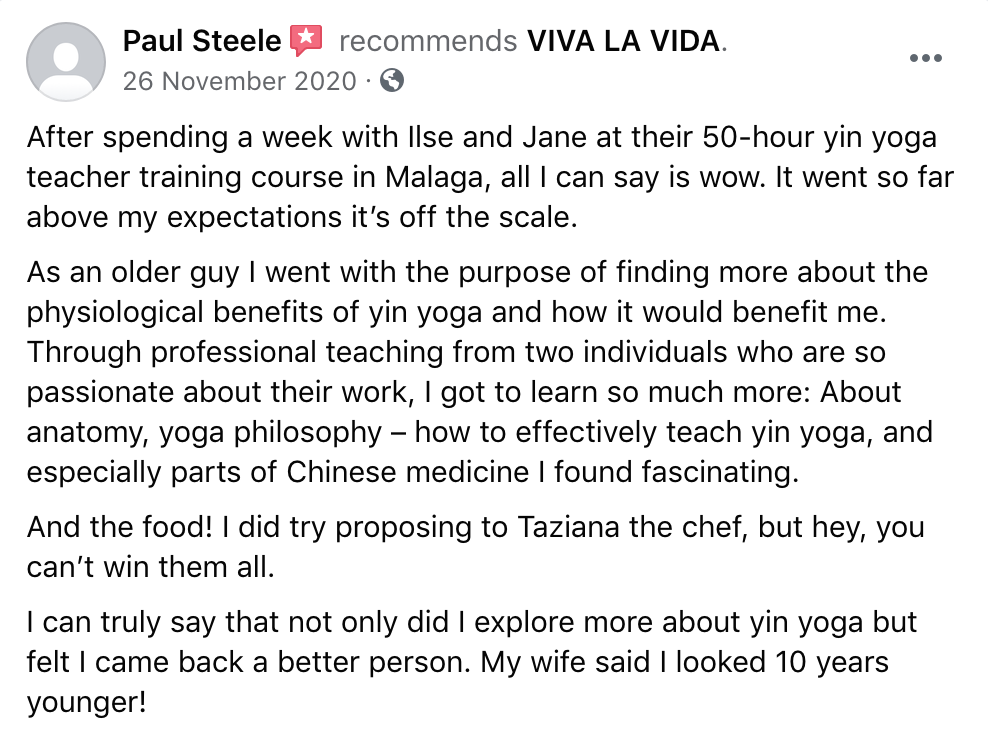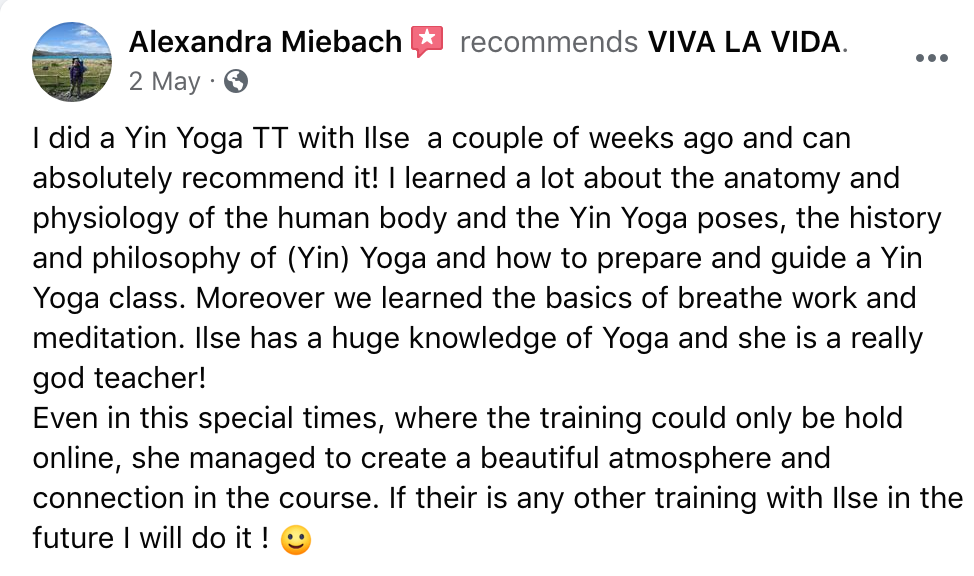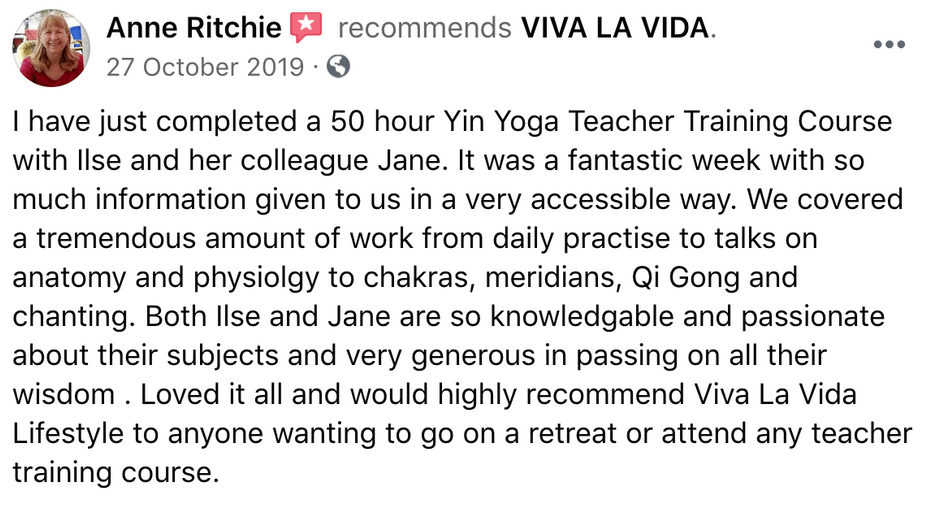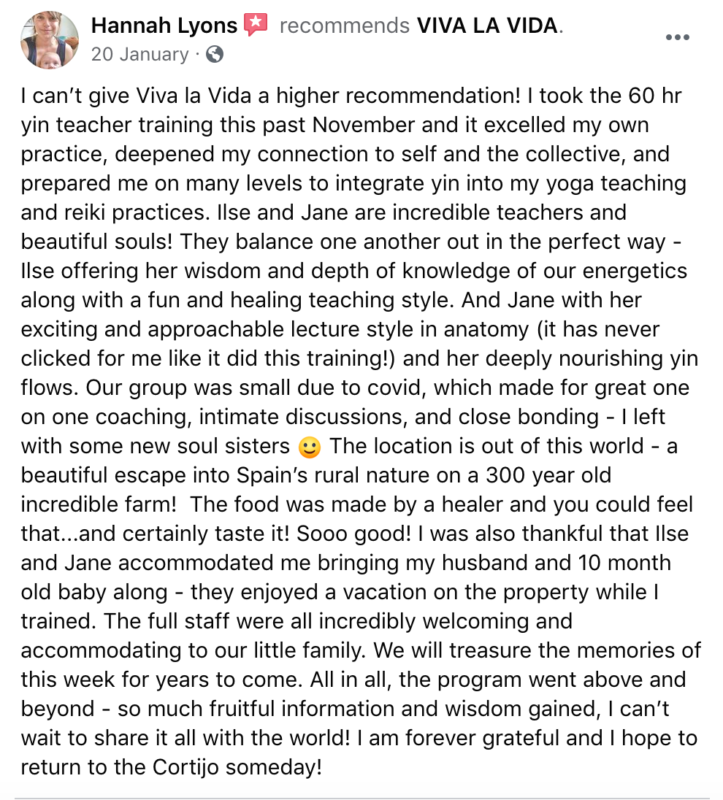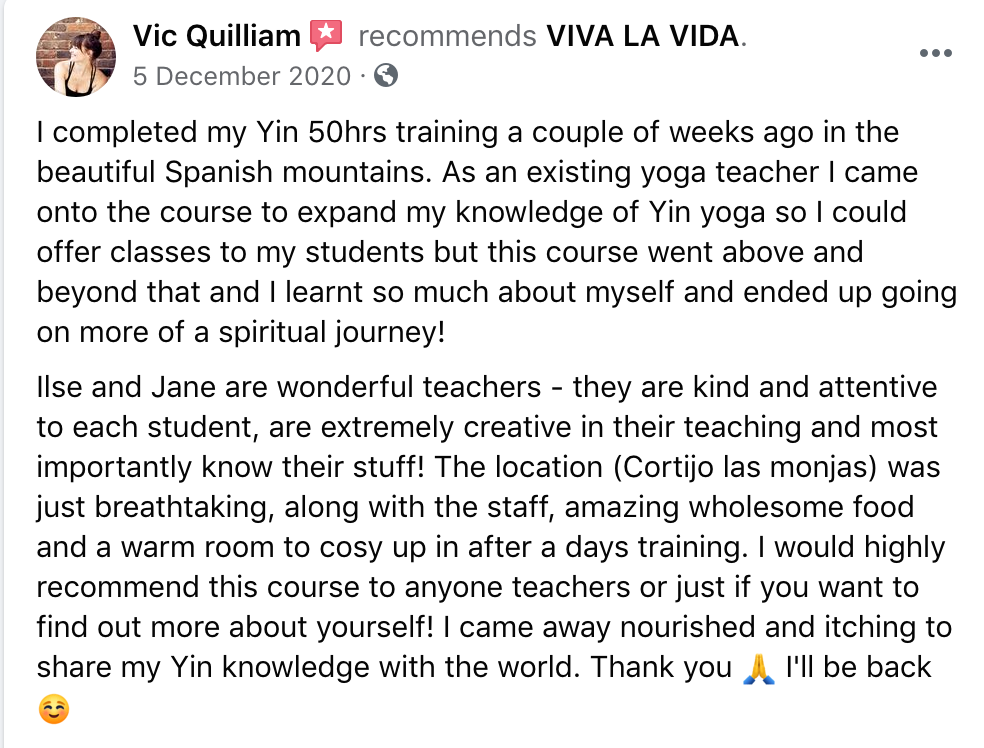 Reviews from our location in Spain
See a few reactions just after the course in Spain finished.